Dr. Ir. Vincent de Paul Bigirimana studied Agricultural Sciences and Biology at the University of Rwanda (then NUR) and graduated with an Agricultural Engineering degree in Crop Production and Horticulture.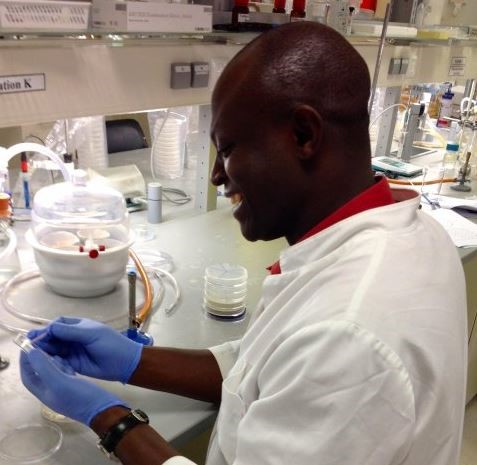 Dr Vincent de Paul in Laboratory session
He subsequently undertook Master's studies in Agric. Sciences and Biol. Engineering/Crop Protection at UC Louvain and FUSA Gembloux (now GxABT, part of ULg), Belgium, and completed doctoral studies (PhD) in Applied Biological Sciences at the Ghent University in Belgium. He is currently involved in postdoctoral studies as an invited scientist at the UC Louvain in Applied Microbiology.
Dr. BIGIRIMANA is an academic staff member at the University of Rwanda since January 2006, with responsibilities in teaching, research, community service and academic administration. Results of his research have been published in indexed scientific journals and presented at international conferences. His other activities have been presented in technical reports.
Summary on his research entitled : Contribution to improvement in Crop protection practices : studies on safe use of pesticides and ecosystem-based alternatives to chemical control : Applications on potato.
After World War II, pesticides gained momentum. They were an important component in the Green Revolution. They lead to tangible yield improvement. Starting by 60s, fears about a negative impact of synthetic pesticides emerged.
Now pesticide use is a concern for the general public and this has trigged strict changes on their regulation, stringent homologation requirements and many molecules have now been banned. On the other side, the world population keeps increasing and needs for plants are exploding : food, industry, etc.
There are even regions where people are still exposed to famines. Pests and diseases cause 1/3 yield reduction and this would more than double if there were no pesticides. Thus strong actions are needed for facing pests and diseases without only relying on pesticides. Elements that are capital to the new approach for the control of pests and diseases include the consideration of thresholds, application of principles of sustainability and agro-ecology, involvement of the community in pesticide management, etc. Potato was taken as a model plant in the present study.
It is gaining in importance as a staple food plant ; is grown on all the continents and 40% of its yield is lost due to diseases and pests. Large quantities of pesticides are used on potato. Strict pesticide regulation in Europe will obviously have a knock-on effect on other parts of the world. It is urgent to develop reliable alternatives to pesticides. In this study, fungal and bacterial organisms associated with potato in the ecosystem have been tested for antagonism against major potato diseases.
Many potential biological control agents (BCA) tested prove to be able to successfully antagonize potato diseases. A better understanding of the interactions BCA-potato pathogens will guide in the formulation of new, environmental friendly crop protection practices. The findings of this study prove that BCA are promising as an element in the integrated control against major diseases of potato and other plants.